Export portfolio versatility has potential and provides high expectations for what is to come. Areas of technological innovation and infrastructure are at the 'front of the line'
A relationship that grows "forged in steel". Thus, commercial transactions between Ceará and Canada in recent years can be qualified. This input is not the only one that stands out in the coming and going of goods between both, but the numbers pointed out by Pecém Industrial and Port Complex (CIPP) as of 2016 they indicate the consolidation of this transit.
Between some oscillations, the average of exports that left the state to that country was US $ 41 million in the period from 2015 to 2019, according to the Brazil - Canada Chamber of Commerce (CCBC). In 2020, these numbers reached their peak, with a 293,8% growth in acquisitions of products from Ceará. This refers to the sum of US $ 101,9 million from January to July this year alone, according to the International Business Center (CIN) of the Federation of Industries of Ceará (Fiec).
---
Do you want to receive TrendsCE content on your smartphone?
Access our Whatsapp and say hi to us.
---
Imports, meanwhile, averaged $ 42 million from 2015 to 2019. Highlight for products bituminous coal, not agglomerated and other waste and scrap of iron or steel. Regarding the rise of the steel plates that left the warm waters of the Atlantic Ocean towards the most extreme part of North America, the turning point occurred precisely in August 2016, when the Companhia Siderúrgica do Pecém (CSP) began to send its production to other countries, on the ships that docked at the equipment's Multiple Utilities Terminal (TMUT).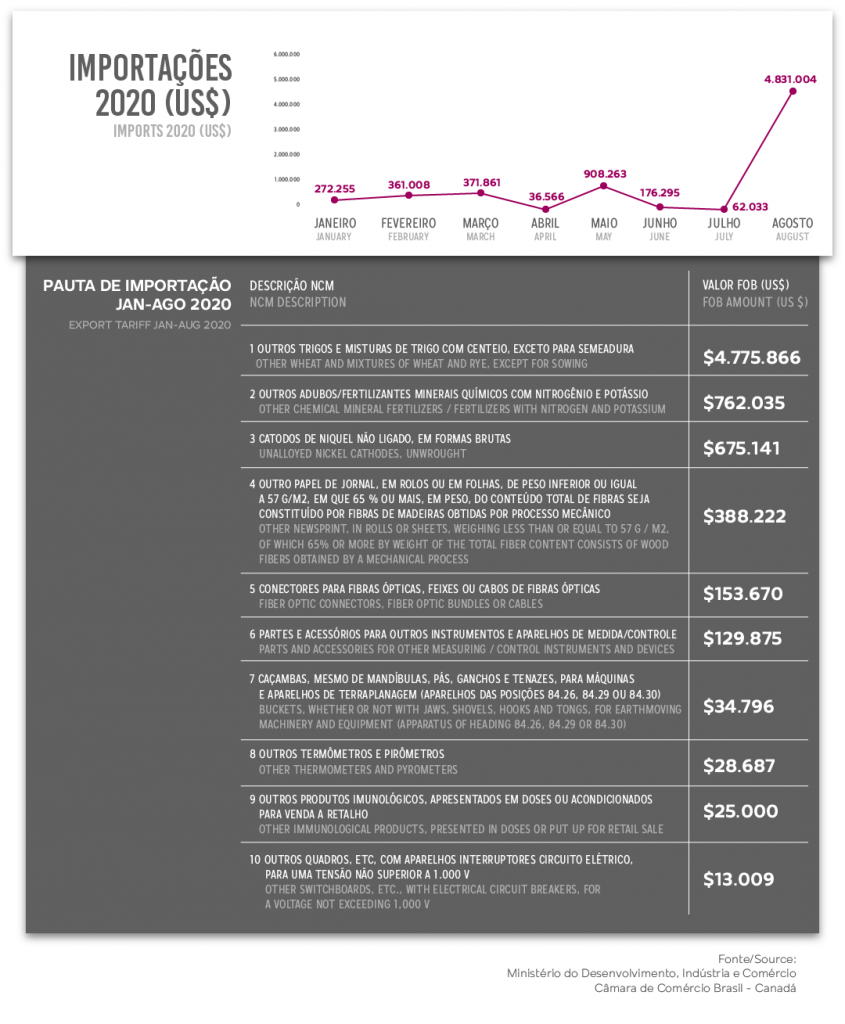 In the accumulated August / 2016 to September / 2020, Canada accounted for 4,04% of all segment turnover, equivalent to 440.214 tons, according to CIPP. If the cutout is only January to September this year, the volume was 9,53%, with 182.075 tons.
"Certainly, the significant increase is due to the start of the production of slabs by CSP. The logistics are relatively simple, since the ships that do this transport are called 'tramps' or loose, without fixed routes, and that go where the cargo is and is destined. Before steel, Ceará's exports to Canada amounted to only about 1,5% ".

Heverson Souza, specialist in Foreign Trade and International Logistics, citing data from the CIN
Voracious importer
The road to Canadian ports and airports is not only open for steel products. Indeed, majority part of the 264% increase in the acquisitions of products from Ceará - and its US $ 103,9 million - in the first eight months of 2020 are due to steel. The data are from the latest study by Ceará in Comex, released monthly by the CIN. And the novelty may be in the expansion of the diversification of the export basket.
"The great news is not only the increase in the things that we already exported, but mainly, when we look more closely, to be able to notice this expansion of the variety of products that we are exporting to Canada. Especially in terms of food and drinks ".

Paulo de Castro Reis, director of institutional relations at CCBC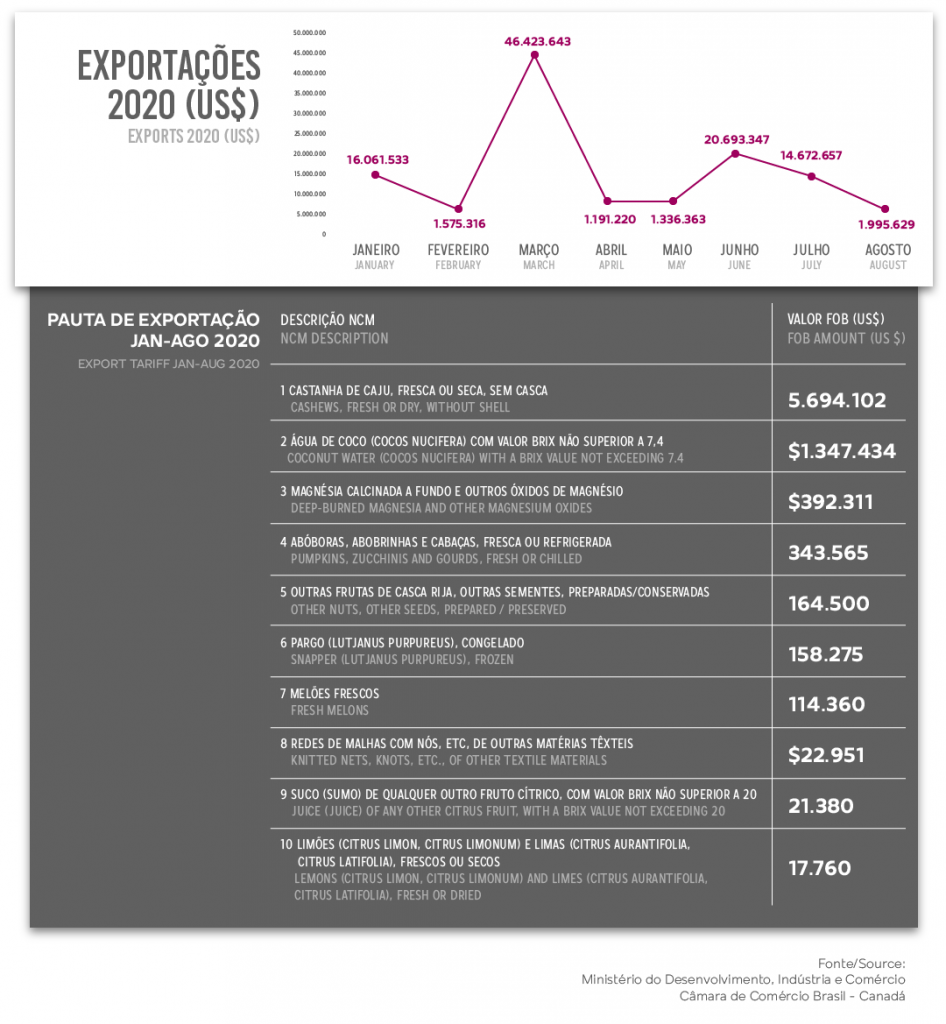 Castro Reis points out that fruit producers - especially melons -, vegetables, and food in general have good reason to believe in significant increases in demand for a market that is always willing to establish new and lasting partnerships. "I think it is important, and it is a job that the Chamber has also done, to look for a product mix, because Canada is one of the largest importers in the world. And we have to take advantage of this more and have been working precisely to find new business opportunities for other Brazilian products ".
The question of seasonality is a factor of fundamental importance in order to offer a certain continuity to business between the State and the second largest country in territorial extension in the world, a characteristic that, by the way, makes it possess a well-segmented economy and closely related to the weather seasons.
"For example, in agribusiness, they know that production must take place in spring and summer, because when winter comes, it's all snow. They have to import from somewhere at that time, even what they produce. There are guidelines that open in the winter there. And there is also the case of products that they do not produce at all, such as chestnuts, which Ceará can sell all year round ", details Castro Reis, also citing the melon, coconut water, fish and other fresh fruits, as well as handicraft products, such as goods from Ceará with doors open all year in Canada.
Asked about the possible continuity of good relations between the State and the North American country, that is, if there are good perspectives about the future, especially involving exports that leave from here to there, Professor Heverson Souza is adamant: "I don't have doubt that yes. In addition to the demand for steel, Canada always seeks food, mainly organic, leather, granite, rustic furniture and has a lot to offer in IT, wheat, barley and renewable energy. It is a multicultural nation with an excellent banking and business environment; (the relationship) has everything to succeed and prosper ".
Rising sectors
Two other sectors that deserve attention for opportunities, according to Castro Reis, are that of infrastructure and technological innovation. In the first, although there is still no partnership established between the Chamber and the State, "the doors are open". "We have, for example, an investment commission and we have already held events with the states of São Paulo and Paraná. This month we are going to do with Bahia, talking about the opportunities for the states to be able to present this to Canadians. Investments in the areas of infrastructure, energy, urban mobility and basic sanitation", He says, revealing that there is a special attention from Canadian companies to states in the Northeast.
With respect to technology-based businesses, the CCBC leader mentions the entrepreneurship and the promotion of startups as promising areas in the new phase of the relationship between Brazil and Canada, which of course can be applied to Ceará. "Even in December, we are going to have specific sessions during the São Paulo Techweek, which is organizing an event called Canada House, with several seminars and innovation centers from Canada and Brazil exchanging experiences. There will also be a contest for Brazilian startups, in which the winner will take as a prize an internationalization in Canada ", he informs.
Content translation is performed automatically by Gtranslate /
Content translation is performed automatically by Gtranslate