Investing in startups is an alternative to diversify applications in search of greater gains. Today, the areas of education and health have the largest number of startups in Ceará
The term startup was imported from English, but soon became widely used in Portuguese. Over the past six years, the word has gained fame in the Brazilian market due to the large number of companies with innovative ideas, based on technology, which have grown quickly and scalably, without inflating costs, registering financial returns that reach an average of six times the amount invested. A huge difference in relation to traditional companies, especially for those who see in the medium and long term the chance to multiply exponentially their investments.
Investing in startups is a wave that is just beginning. And there is still a lot of room to increase. It appears as a good alternative in order to diversify applications in search of greater gains. It is no wonder that between 2015 and 2019, the number of startups in the country more than tripled, from 4.151 to 12.727 - a jump of 207%, - according to the Brazilian Association of Startups (Abstartups).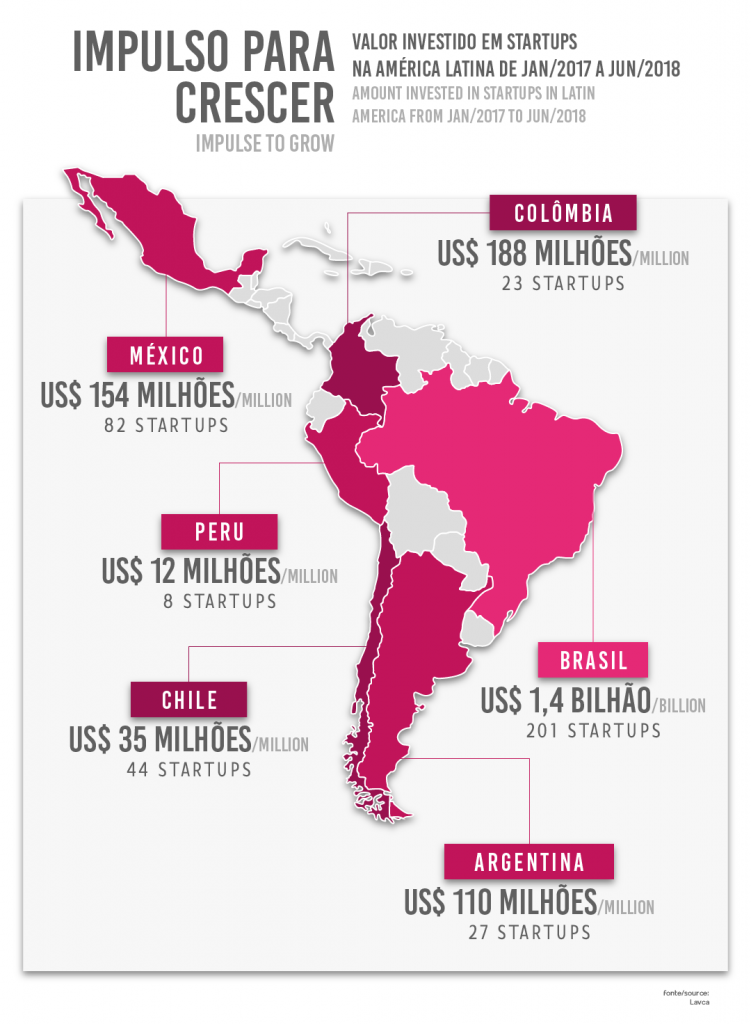 This leap puts the Brazil on the list of the top 20 countries in a worldwide ranking of startup ecosystems. The country now figures in the world elite of this business environment, according to the survey by the company StartupBlink, which takes into account the quantity and quality of startups, the supporting institutions and the innovation ecosystem as a whole.
Which also justifies the record registered in the volume of investments in 2019. According to a study by the consultancy in innovation Distrito, Brazilian startups received US $ 2,7 billion in contributions last year. An 80% growth compared to 2018, when the total was US $ 1,5 billion.
In this scenario, the Japanese group SoftBank emerged as a fundamental part of this growth. A further proof that the attention of foreign investors is also focused on the strength of the innovation business environment that has been installed in Brazil.
---
Do you want to receive TrendsCE content on your smartphone?
Access our Whatsapp and say hi to us.
---
According to Abstartups, startups decidedly turned the tables. Today, they are increasingly present in our daily lives. Especially on smartphones, via applications. Always at hand, these innovative businesses they are revolutionizing the consumption habits of goods and services, generating profits and attracting those who have the resources to invest and hope to discover companies with the growth potential, such as Uber, Netflix, Spotify or iFood, with an eye on previously unimaginable financial returns.
Scenario of startups in Ceará
In this context, "Ceará has been emerging and teeming with the startup movement," says Delano Macedo, who is an advisor to NINNA, one of the main innovation hubs in the Northeast, and a partner at Parallax Ventures, a Brazilian venture capital fund operator. dedicated to early stage investments.
"We recently had a success story in Ceará, which was the sale of AgendaEdu to Eleva, being one of the first big cases in the state. In addition, Ceará has startups of great renown such as Mobills and HubLocal, recently approved at Cubo. Growing exponentially, we have ChatbotMaker, which managed to quadruple its customer base during the pandemic. Just like TotalCross, an internationalized and award-winning startup from Ceará ", celebrates Macedo.
At the same time, explains the executive, there are programs that have been promoting the emergence of initiatives and increasingly professionalizing the sector, enabling it to develop. "These are programs like Digital Corridors, from Secitece (Secretariat of Science, Technology and Higher Education), the StartupCE, from Sebrae Ceará, and even the EDU Program (Digital University Entrepreneur) from NINNA Hub in partnership with CEMP-UFC (Center for Entrepreneurship at the Federal University of Ceará) ", he says.
"I also highlight the Germinar program, of the M. Dias Branco Group, which has greatly encouraged the potential we have in Ceará", adds Lucas Barreto, partner at BM Advogados, a Ceará law firm specializing in startups and who currently advises big names of the state scenario.
According to him, there is also a calendar of events promoted mainly by the Ceará ecosystem of startups Rapadura Valley, from Fortaleza. "Rapadura Valley won the Revelation Community award in 2019 at Case, an event promoted by Abstartups, and now in 2020 it is competing for the Community of the year award", recalls Strauss Nassar, a partner at Cordel Ventures, a Ceará accelerator for startups.
"Fortaleza, even for its strategic location in relation to Europe and the United States, is a city that has advanced a lot for those who want to invest. There are professionals specialized in the market, whether in the legal area for innovation and investments in startups, marketing, management and finance ", says Barreto. At the same time, he says that we cannot forget ecosystems in the interior of Ceará, such as the Cariri Valley and the poles of technological innovation in Sobral e Quixada.
"All of this is creating fertile ground and with a great possibility of making Ceará attractive for investors to invest resources in local startups. Making our state prosper and being able to position itself at the national vanguard in this new model, more digital, fast and with great results ".

Delano Macedo, NINNA advisor and partner at Parallax Ventures
Currently, the areas of education and health have the highest number of startups in Ceará.
Investment in startups
For Lucas Barreto, of BM Advogados, investing in startups is a very interesting alternative for both individuals and companies. And Brazilian startups are increasingly targeted by investors, due to Innovative solutions and the current economic scenario of low interest that encourage risky investment in the expectation of greater gains.
"Today, especially with the fall in interest rates linked to various other types of investments, it has become more difficult to monetize your money. However, with startups, we have the possibility, sometimes, to earn five, six, ten times more than the amount invested ", he justifies.
However, he recalls that these gains do not occur overnight. "It often happens with a longer term, of four, five, six years or more. It is a long-term investment, "he says.
In addition, it is the type of investment that involves several stages, draws the attention of Mário Alves, from the Ceará ecosystem of startups Rapadura Valley and consultant at Indigital.lab, a digital transformation consultancy focused on facilitating communication between developers, designers, marketing and the executive board of projects of various sizes.
"It is a process that can take months and requires contracts, negotiations and definitions of values ​​that vary according to the degree of maturity and the area of ​​the startup. It is an interesting alternative for those looking to invest in the medium and long term with medium to high risk ".

Mário Alves, consultant at Indigital.lab
As for the amounts invested, he says that these tend to be in the six-figure range (above R $ 100 thousand), although there are possibilities for collective investment with contributions below R $ 10 thousand per investor.
But before he goes around applying the money, he advises Alves, anyone looking to invest in one or more startups needs to have answers to some key questions like: how much to invest, in what area or sector, what is the maturity level of the company you want to support, how long would you like to see a return, what is the expected return, how many startups will be part of the investment portfolio and what you are looking for at the team level ie characteristics, history of success, etc.
After answering these questions, he reports, the search for startups begins, which may involve incubators, accelerators, coworkings, specialized law firms, mentors and other investors. "It is a complex process that can involve two to more than 30 people to reach an agreement that makes sense for both parties," he says.
Another fundamental point, adds Barreto, is to have knowledge about the economic valuation of companies. "This is very interesting so that the investor is not deceived by a business that looks very good, but that when investigating the numbers and what is behind the business, that value often does not correspond to reality," he says.
Just as it is very important to networking, create a web of relationship with entrepreneurs before betting on an innovation business.
"It's talking, talking to these entrepreneurs. Don't be afraid to schedule meetings, to talk about your proposals, to understand more about entrepreneurs. Networking is extremely important for the investor to know the right moment to invest, with whom he should invest or to whom he should give his money, his investment ".

Lucas Barreto, partner at BM Advogados
At the same time, recalls Strauss Nassar, of Cordel Ventures, "it is interesting for investors to understand that the startup primarily aims at smart money, that is, not just money itself, but an investor with market opening or the possibility of adding to the business , which generates acceleration ".
Return and degree of risk
"When we talk about startups, we talk about risk", points out Delano Macedo, NINNA's advisor. "But it should not lead only to the negative connotation of loss, since the risk is for both sides, of gain and loss. Startups are complex models that take a while for results to be seen and the fruits to be harvested, everything will depend on several factors ", he explains.
Thus, it is necessary to know the market, evaluate which investment model is best suited to the investor profile and, if you are not an individual investor, know how to interpret the investment theses of the partner sought to make the investment of money possible and, of course, take into account the financial availability.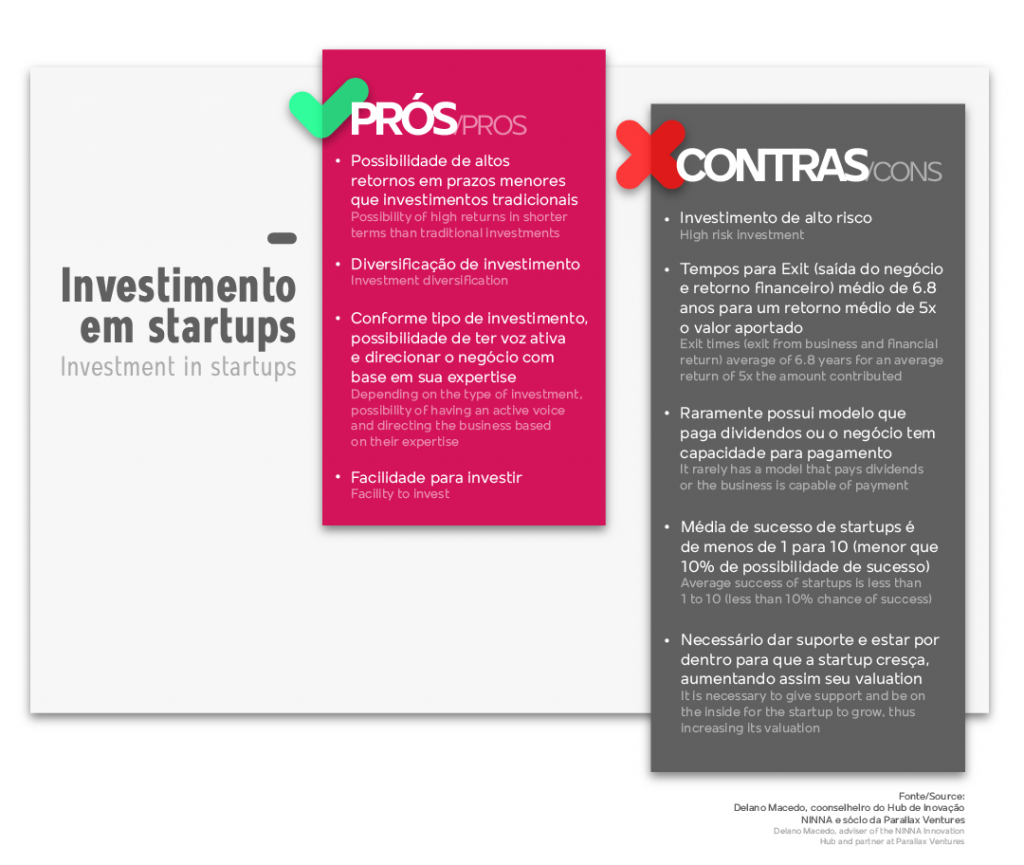 According to Strauss Nassar, from Cordel Ventures, investment in startups can take place by company stage or by modality. "In short, it is important for the investor to understand how the market works and the risk of the business, with no more than 10% of its equity. Despite the high risk, once with market knowledge or with good advice, the investment is incomparable with those of the market, exceeding expectations in relation to other types of investments due to the scale and the possibility of rapid growth ", he says.
Mário Alves, from Rapadura Valley, goes so far as to say that investment in startups "is recommended for people with the stomach to deal with the ups and downs of the market, problems between partners and difficulties in developing the product or service".
However, the high risk, experts agree, is offset by a very large return. "From five, six or even ten times the amount invested. Despite the insecurity on the one hand, on the other, investment in startups is attractive because of this much higher profitability ", concludes Lucas Barreto, of BM Advogados.
Investment modalities
According to Delano Macedo, each year, new forms of investment in startups are emerging. However, each of them has its complexity and necessary level of knowledge. The most common models are the Equity Crowdfunding, Accelerator, Angel Investment, Seed Investment and Series.
The first, he explains, is a format of "Crowdfunding", where investors who have less financial capacity (initial values ​​from one thousand reais) can start their investment journey. "For this type of contribution, the investor generally has two options: receive an equity (percentage of equity interest in the startup) or else receive convertible debt securities, which can be converted into equity interest (equity) in the future.
Already Accelerator, is what can be called a more current model of incubator. Its function is to give accesses (financial, knowledge and networking, basically) to startups, so that they can prosper. "With the sum of these three basic elements, there may be others, a total value is defined, which will be considered the investment when a startup enters for acceleration", he explains.
According to Macedo, in order to make the financial issue feasible, accelerators usually raise funds from individual investors, so that they can make a greater number of contributions, and generally the individual amounts invested are in the range of R $ 50 thousand to R $ 100 thousand.
Then comes the Angel Investment. This can occur in two ways: individually or with other investors in this category. "Angel investors have the characteristic of being entrepreneurs with great experience, which guarantees them a good level of knowledge so that they not only contribute money to the startup, but can also share knowledge and networking, aiming at the prosperity of the business, a characteristic by which it is called de Anjo and the individual investment value varies between R $ 50 thousand and R $ 250 thousand ", he explains.
O Seed Investment, in turn, is after the Angel Investment, amendment Macedo, because in the case of individuals it requires a greater financial profile, in addition to being very common for Family Offices, that is, a kind of privately held company that deals with management of investments and wealth of wealthy families.
"Seed investors usually structure funds in order to be able to make a greater number of contributions, aiming to reduce their risks and have a greater return on the adjustments made. For this level of investment, the values ​​range from R $ 500 thousand to R $ 2 million ", he says.
Finally, we have the Series Investment (A, B, C etc), which are investments made by companies specialized in venture capital, or venture capital, which are extremely professionalized for this type of investment.
"The variation - A, B, C etc. -, comes from each investment round that the startup received. For example: if a startup receives its first investment from a venture capital, it is in Series A. From then on the next rounds are B, C, D, and so on. Series A investments tend to be in the range of R $ 10 million; and the others will depend on the level the startup is at, "explains Macedo.
How to formalize the operation
The investment is formalized on a contractual basis, where there are basically four different types of contracts. "Direct Participation Agreement in companies, Mutual Convertible into Equity Participation, Option to Purchase Quotas and Participation or Partnership Agreement", reports Delano Macedo.
Through the Direct Participation Agreement in companies, the investor becomes a partner in the business, being included in the company's bylaws and thus assuming the responsibilities and risks of the business, such as participation in debts.
O Mutual Convertible into Equity Interest, in turn, is one of the models most used by investors. "It is provided for in the Brazilian Civil Code, in Article 586. This type of contract was adapted for use by startups, where the investor lends the money to the startup, choosing to receive in the future the amount invested with interest and corrections or being able to convert the debt in equity interest in the business, in addition to tying other rules that are specific to each investment thesis and risk mitigation ", explains Macedo.
Another important point of this type of contract, he adds, is that it exempts the investor from participating in the risks of the business, that is, it does not become responsible for any debts or other problems that the business may have, until in fact the option of conversion of debt in quotas or shares from happening.
---
Do you want to receive TrendsCE content on your smartphone?
Access our Whatsapp and say hi to us.
---
Already Quota Call Option Agreement differs from the previous modality, since the contribution is made at the time of signing the contract. According to the expert, "in the purchase option the investor acquires the right to invest in the startup, but not the obligation, in a future moment. With this contract, the price is established in advance, not being modified by changes in share capital or by any change in valuation that the startup may have. This contract contains the rules and it is common for a premium to be paid so that you can have this purchase option, the same being paid upon signature ".
There is also the Participation or Partnership Agreement. It is based on the complementary law 155 of 2016, emerging to regulate investment in micro and small companies, to foster technology and innovation in Brazil.
"This type of contract is not one of the most attractive for startups, since it simply formalizes a 'loan' format, thus being an interesting model for anyone who simply wants to lend money to startups under different conditions and receive that money with certainty. interest level. In addition, the investor is prohibited from exercising functions within the business, having no voting rights or being considered as a partner. It ends up being an unattractive model for investors and Startup. However, it is a possibility ", points out Macedo.
Where to know projects to invest
According to Mário Alves, from the Rapadura Valley startup ecosystem in Ceará, a good start is to look for incubators, accelerators and coworkings that aggregate startups according to the investment strategy you want. "There are also events and competitions that bring together startups of different levels and can be a good place to learn about new projects", he highlights.
At the same time, recalls Strauss Nassar, from Cordel Ventures, there are also government and private programs to promote startups, which are a storehouse of great ideas, entrepreneurs and teams dedicated to success. "We can highlight the Secitece Digital Corridors Program; the Varal Program, by the accelerator Cordel Ventures; Startup Weekend, an international startup ideation event; among others, "he says.
There are also several platforms that give access to startups looking for investment and even do all the legal intermediary for both parties to have support. "As an example, we have CapTable, Eqseed and Startmeup", quotes Delano Macedo, NINNA advisor.
"The Brazilian Association of Startups, Abstartups, is also very interesting, as it has a file, a very rich database of innovation companies from all over the country", says Lucas Barreto of BM Advogados.
Content translation is performed automatically by Gtranslate /
Content translation is performed automatically by Gtranslate